Thank you everyone, for coming to my 60th birthday party. Yes, I really was surprised.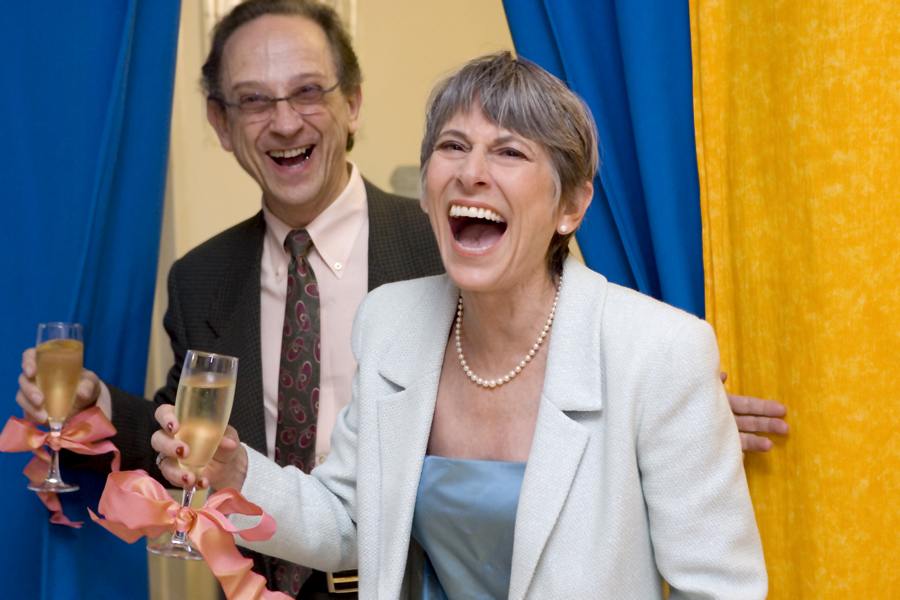 Thank you to everyone for keeping this a secret, for your comments on e-vite, and for being there.
It was amazing to come through the curtain into the studio, and see, literally, 100 of my closest friends! I am overwhelmed with your love.
This party feels like adefining moment for me: Days later, I feel all the warmth and happiness that I felt at my party. I know that now, any time I don't feel good about myself, I will just remember this party, and everyone's smiling faces, and any bad mood will evaporate, just like that.
As soon as we get the proofs from the photographer, I will post a link for you.
Several people asked: What did Ken say to get you to YIY? Here's the whole story:
Ken had told me at least six months ago that he was doing all the planning for my 60th, and I was not going to be in charge. So, after fighting it briefly, I relaxed and didn't ask. On the morning of my birthday, I was a little surprised that Ken hadn't told anyone in class that it was my birthday, as no one wished me a happy birthday. I had hoped for at least a round of "Happy Birthday." When we got home from yoga, he said our next appointment was at 10, and I should dress for the spa. At 10, he dropped me off at a wonderful day spa in Menlo Park (Thermae), and said he would be back at 4 PM. Ken had scheduled me for a facial, a massage, lunch, a salt scrub, and a manicure and pedicure. Back home, Ken had already laid out the clothes I was to wear, and he told me to be ready to leave at 6. I had time for a little rest (I was so mellow already…), then I got dressed. We changed the shoes on the outfit, and I asked him whether I should wear nylons. He said absolutely not. I thought we might be going to the beach, but about 15 minutes later, I thought, "or YIY." But I didn't know why we would be going to the yoga studio. Yes, I had seen that the Friday evening class was cancelled (Thank you Mojdeh for giving up your class), but I didn't put it together. At 6, a Town Car pulled up at the house, and we got in. We drove around Shoreline Park for a while, then into Mountain View. As we turned onto Church from Castro, I knew we were going to YIY. I could see a few bodies in the studio as we drove into the parking lot, so I knew then that there was a party. But I had no idea that all our children had come into town, or that so many people would be there. So, you see, he told me nothing, and I was truly surprised.
Thank you to everyone. I feel very blessed.
Namaste.
Elaine